The Mentawai Island chain is one of the reasons that Indonesia is considered one of the best countries for surf on the planet. This island chain lies off of the west coast of Sumatra, has a massive swell window, and perfectly formed reefs. Combine all this and it becomes one of the top regions for high-quality waves in the world. A trip here will be best for intermediate surfers and up as the waves almost all break over coral and the best ones are often the heaviest and hollowest. This chain is the definition of a tropical paradise, with many breaks being accessible only by boat requiring a little bit of travel. Many surfers will opt to stay on a charter boat while visiting, but there are also plenty of resorts on land if sleeping on a ship isn't your cup of tea. The best time to visit for highly consistent swells is the Southern Hemisphere's winter, although due to the exposure even the off-season produces consistent but smaller surf. Of course, this list being five spots only is limiting, there are plenty of other very high-quality breaks. See our Mentawai/Indonesia regional page for more information.
Rifles
Rifles is found on the same small islet as it's more famous brother, Kandui. This spot is slightly tamer (than Kandui) right hander that offers up long and fast barrel sections mixed in with high performance walls. It is one of the best right handers in all of the Ments and indeed the world. Rifles can be playful when smaller (see above) but when serious swell arrives this spot is best for advanced surfers that are comfortable with heavy and hollow reef breaks. This wave is known as a board breaker. Be ready for long rides and rubbery legs, as well as some user friendly barrels when smaller. See our Spot Guide page for more information.
There are plenty of surf charters that can take you to Rifles, and indeed many other spots on the island chain. These are listed at the end of the article. There is one brick and mortar resort just nearby that offers fantastic packages with plenty of activities for the whole family. If that sounds better than a surf charter, look no further than Wavepark Mentawai.
Greenbush
Greenbush is not a wave for the faint hearted. It is a slabby, heaving left hand barrel that tends to break on ultra shallow coral reef. This is one of the most picturesque waves in the Southern Mentawai islands, and it is a bit of a strike mission to get there (read, a longer boat ride). This wave is best left to advanced surfers when bigger which is also when it is best. Those with a strong sense of self preservation would be better served heading to Macaroni's down the island. Of course this wave is best in the Southern Hemisphere winter when large swells rip into the coast. See our Spot Guide for more information.
As with all breaks the best way to access is by boat and therefore your closest accommodation would be a charter boat. However, there is one surf resort on the island which is extremely close to Greenbush as well as the other world class waves here: Macaronis Resort. This really is a five star, all inclusive experience for both surfers and non surfers alike. We cannot recommend them enough.
Macaronis
Speaking of the resort, let's talk about the wave. Macaronis is a fantastic, machine like, and consistent left hand reef break that is one of the most coveted spots on the planet. The reef alternates between fast barrel sections and rippable walls from the top of the reef all the way to the bottom. Although it is a more mellow break than a lot of the shallow barrel spots, the reef is still shallow and encounters are not uncommon. There is always a plethora of charters in the water here due to the quality and consistency, but worry not, there are waves for everyone here. This wave works on all tides and swells making it a must surf on anyone's bucket list. See our Spot Guide for more information.
As discussed above, Macaronis Resort will be your best bet on accommodation if you would like to be on land in between surf sessions. Their packages tend to be all inclusive and will be great for a hardcore surfer as well as anyone who doesn't surf that comes along (looking at you surfers with families). There are plenty of activities such as kayaking, SUPing, and lounging at the pool to keep everyone happy, and if all else fails the fast wifi or bar should provide relief.
Lance's Right
Lance's Right, also known as Hollow Trees, is one of the premier right hand surf breaks in the world. The word user friendly is usually not thrown around when discussing hollow reef breaks, but this wave can offer a somewhat mellow chip in when bigger and doubling up before unloading onto the reef without a drop of water out of place. The reef is shallow and the beatings heavy, although the paddling channel is almost never closed out. Although it is somewhat fickle, when on it is a can't miss surf destination. There are countless clips of amazing barrels from here, maybe you'll be the next one to score it. See our Spot Guide for more information.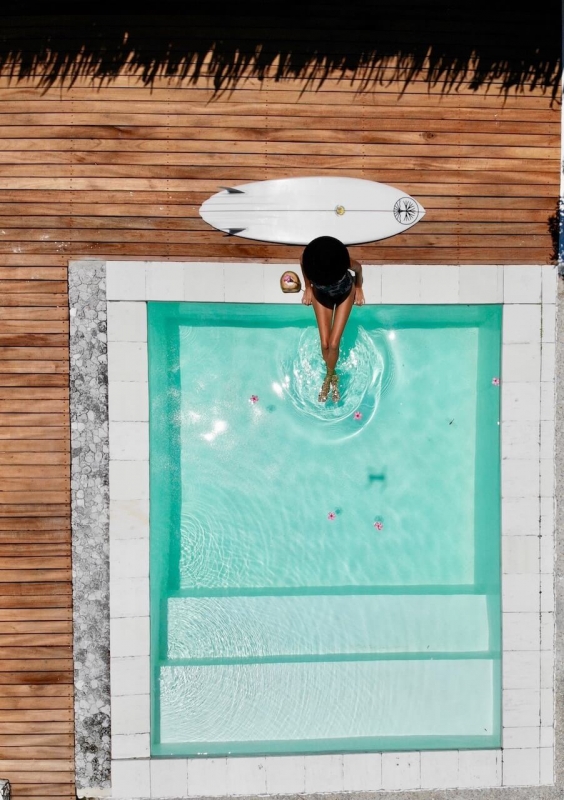 There is a resort directly in front of this legendary break, HT's Surf Resort. This, like most resorts, tends to be all-inclusive package heavy with plenty of options for those who surf and those that don't. This is not the only good wave in the area and the resort will offer transportation or means of transportation around the whole island, meaning you will not get skunked. Book now and surf later.
(NO)Kandui
Kandui is the most legendary left-hand wave in the Mentawai (debatable) and when a good swell arrives the lineup will be stacked with plenty of pros making unmakeable barrels. The break is shallow and the waves will careen across the razor-sharp coral for a very long way. The difficult nature of this wave is why is is also named NoKandui as in No Can Do, but the plethora of clips with mouthwatering barrels that emerge whenever a swell hits points in the other direction. This reef is consistent, although best in the Southern Hemi winter of course. See our Spot Guide for more information.
Kandui is located off of a small islet, but there is one resort option on land. It is a little more bare-bones than other inclusive resorts but does offer basic amenities and more importantly wifi. It is best for surfers looking to surf their brains out, as there are plenty of great waves all around if Kandui isn't working. Check out Kandui Surf Resort for more information!
The Mentawai Islands are one of the must surf areas for any surfer. The concentration of world-class waves is only matched perhaps by the North Shore of Oahu. The combination of 5 star resorts available as well as less dressed-up boat adventures make it a great place for either a family escapade or a hardcore surf strike mission. Book now!